Huntsville, AL – Spinning Babies® Workshop w/ Emma – Apr 8, 2023
April 8 @ 09:30

-

18:00

$245.00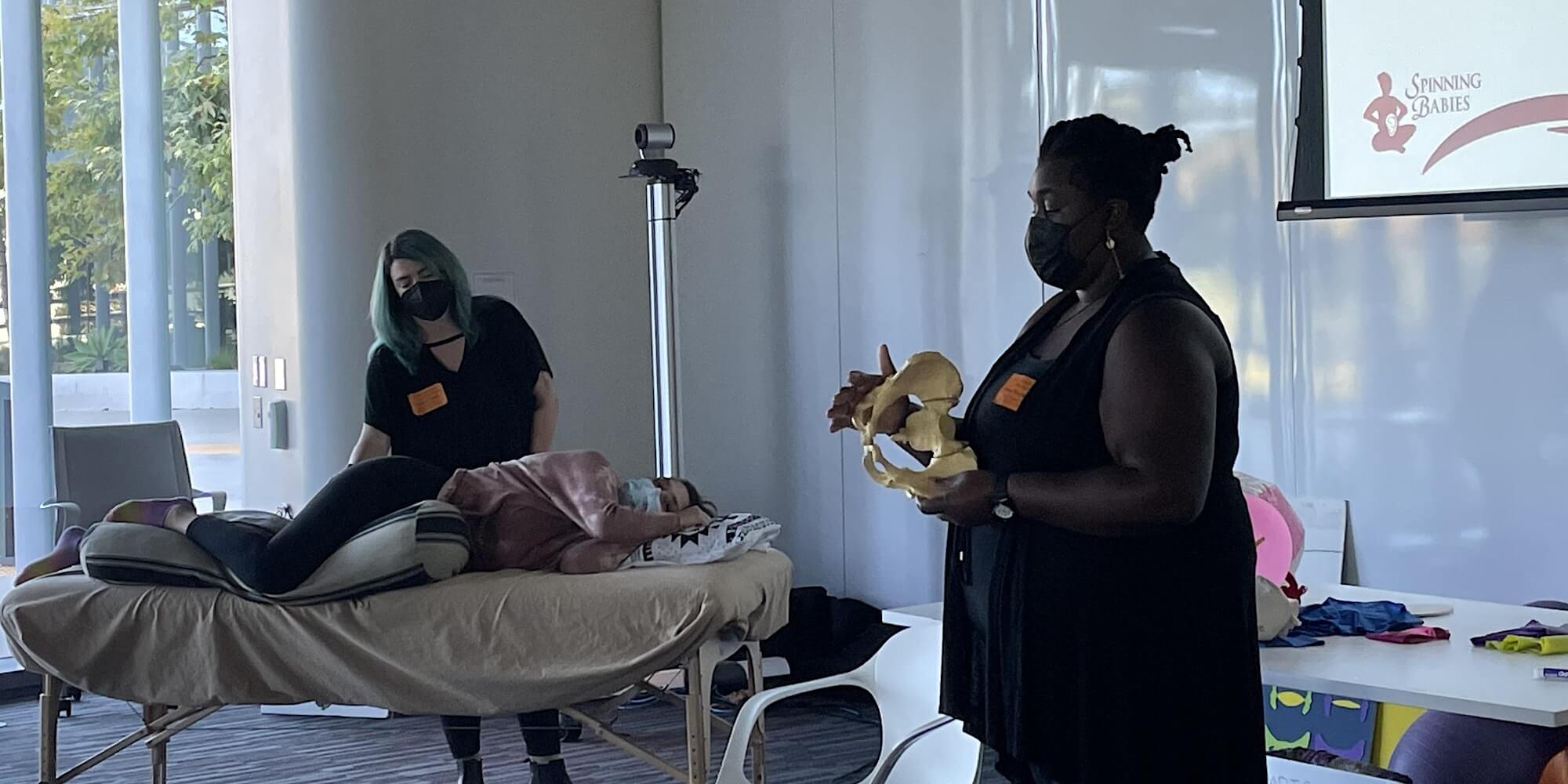 Spinning Babies® Workshop
Spinning Babies® Workshop
Emma Moreland, Spinning Babies®️ Trainer, CPM and Spinning Babies® Aware Practitioner, invites you to explore a new perspective in birth anatomy to transform your birth and pregnancy services.
How can we help create easier births? What about babies whose positions might complicate their journey?
Fetal positions are clues, not random events, to the body's need which once met can then allow the birth to flow. Physiology Before Force(SM) means we recognize medical interventions may be necessary but only after body-based techniques are tried.
After this workshop you will be able to:
Facilitate comfort in pregnancy and ease in childbirth
Identify and apply techniques to reduce long labors or cesareans
Add fresh solutions for long and/or posterior labor, labor dystocia and labor pain
Qualify for advanced workshops
Spinning Babies® Three PrinciplesSM. Three BalancesSM, and Pelvic Levels Solutions offers the world's first complete system of birth preparation and labor ease concepts using baby's position. Physiological techniques change the effective size of the pelvis through the body's own innate capacity to resolve or prevent labor dystocia.
Who may attend: We welcome all professionals who serve people in their pregnancy and birth.  Ideal for: midwives, nurses, nurse practitioners, family practice doctors, doulas and childbirth educators. Also attended by obstetricians, prenatal yoga instructors, chiropractors, acupuncturists, massage therapists, perinatal case managers, and community health workers. It is recommended for people new to Spinning Babies®️, as well as those reading the website for years.
Continuing Education: Maternity House Publishing, Inc. (dba Spinning Babies®) is accredited as a provider of Nursing Continuing Professional Development by the American Nurses Credentialing Center's Commission on Accreditation (ANCC). This activity has been awarded 7 contact hours through ANCC.
Many doula and childbirth education organizations accept these contact hours; check your organization's policies. Continuing professional education credits may not be available for this workshop.
Hosted by: JanaLynn Doula and Ashley Lowder Photography
Details: Plenty of parking on the north and east sides of the building.
There are several places to eat right in the building. Snacks will be provided.
Supplies: Please wear comfortable clothing that can be easily moved around or stretched in (no jeans or buckles please!).
Things to bring with you (if you have them):
pillows/bolsters,
exercise and/or peanut ball,
yoga mat,
doll & pelvis model
massage table (contact local organizer to see if one is needed)
Spinning Babies® follows CDC and local recommendations related to COVID-19 precautions. Please check your local health department's guidelines as you are planning for your registration and attendance. Spinning Babies® will update you on our planned measures close to the time of the event based on current recommendations. Please see Spinning Babies® infographic: PDF COVID-19 precautions.
Our safety measures may include:
Adhering to physical distancing guidelines
Wearing masks (over noses and mouths)
Doing hands-on activities with a limited number of other participants
Asking participants to bring their own pillow
Cancellation policy: Call before class begins for a refund, $50 admin fee (or if at a birth and you call before 8 am you may be able to get a full refund).
Participants are responsible for their own travel, accommodations, and related expenses and Spinning Babies® is unable to refund these expenses.
About the Trainer: Emma Moreland (she/her) is an intuitive bodyworker and homebirth midwife based out of San Diego, CA. After discovering Spinning Babies® during the birth of her fifth child, she set out to gain a deeper understanding of birth physiology while also hoping to fill the gap of representation in her midwifery community. Emma began apprenticing with a local Spinning Babies® Approved Trainer and midwife where she cultivated the skills of ceremonious birth, parent-led birth positioning, solution-focused and parent-child focused care, and informed as well as embodied consent. As a Spinning Babies® Aware Practitioner and Spinning Babies® World Confluence speaker, Emma has committed herself to the education about and implementation of embodied consent in birth and body workers, as well as clients.
Advanced Offerings: The Spinning Babies® Workshop is required before taking any further trainings, such as Spinning Babies® Certified Parent Educator Training or Spinning Babies® Aware Practitioner Workshop.
See SpinningBabies.com for more information on Spinning Babies®.
Interested in bringing Spinning Babies® to your city?  Contact one of our Spinning Babies® Approved Trainers or read about hosting a Spinning Babies® Workshop.
Terms of Use: This workshop does not provide a certification in Spinning Babies® only a document of attendance. Participants will not be able to use the name Spinning Babies® to describe their services, such as offering Spinning Babies®, sessions, or saying "trained in Spinning Babies" after registering for or attending this workshop. Participants may use concepts and techniques introduced in the workshop in the participant's practices. Further training is available for eligible participants which does lead towards a contractual relationship for listing or certification and use of Spinning Babies® brand and name.