Mpls, MN – Spinning Babies® Workshop w/ Gail – Oct 29, 2021
October 29 @ 9:00 AM

-

6:00 PM

$195.00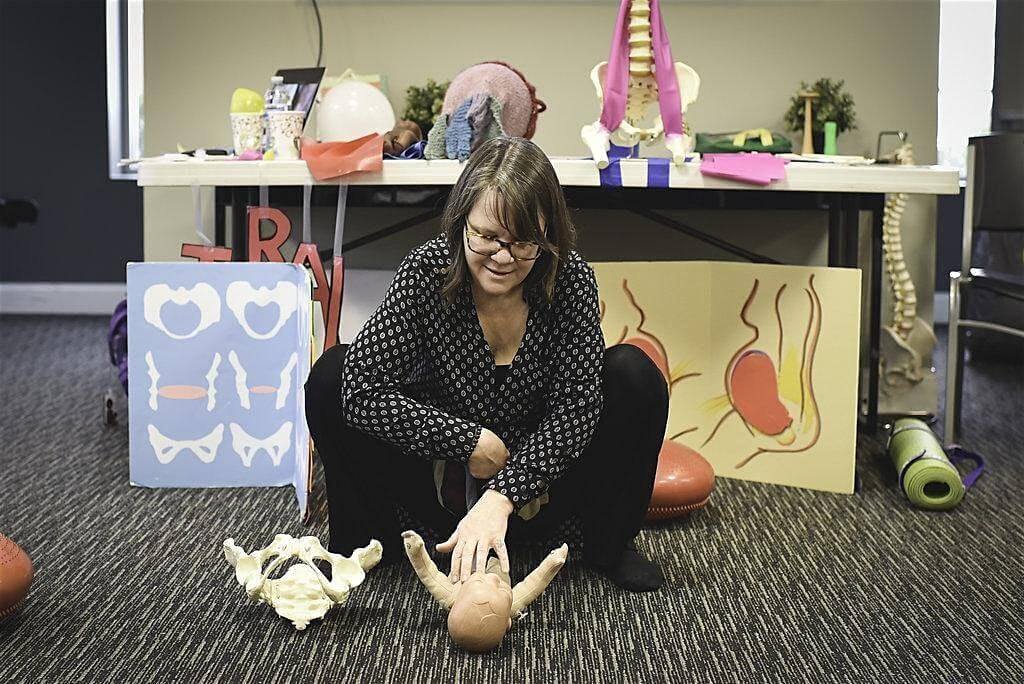 Spinning Babies® Workshop
Spinning Babies® Workshop
in Minneapolis, Minnesota, USA
Gail Tully, creator of Spinning Babies®, welcomes you to the new birth paradigm. Fetal positions are clues to the body's need which once met can then allow the birth to flow. Spinning Babies® is the fastest rising approach to meet the cesarean crisis. Physiology Before Force(SM) means we recognize medical interventions may be necessary but only after body-based techniques are tried.
After this workshop you will be able to:
Facilitate comfort in pregnancy and ease in childbirth
Identify and apply techniques to avoid a long labors or cesareans
Add fresh solutions for long and/or posterior labor, labor dystocia and labor pain
Resolve labor stalls with Spinning Babies® Three Levels Solutions℠
Spinning Babies® offers the world's first system of matching birth positions and specific labor progress techniques to open the pelvis.
Who comes to this workshop? We welcome all professionals who serve people in their pregnancy and birth. Ideal for: midwives, nurses, nurse practitioners, doulas and childbirth educators. Also attended by obstetricians, family medicine doctors, prenatal yoga instructors, chiropractors, acupuncturists, massage therapists, perinatal case managers, and community health workers. It is recommended for people new to Spinning Babies®️, as well as those practiced in it for years.
Continuing Education: This workshop has been approved for 8 contact hours.
Maternity House Publishing dba Spinning Babies®️ is accredited as a provider of nursing
continuing professional development by the American Nurses Credentialing Center's Commission on Accreditation.
American College of Nurse Midwifery has awarded this course with 8 CEs.
This document provides verifying evidence of Continuing Professional Development hours in midwifery antepartum and intrapartum nursing.
Hosted by: Everyday Miracles, info@everyday-miracles.org
Two Equity Access seats are available for Black and Indigenous Birth Workers of Color. Please contact Gail@SpinningBabies.com to inquire about this seat.
Details: We will take a 90-minute break at 12:30.  Bring a lunch or go out with new friends.
Cancellation Policy: Refunds available for those who are attending births when they email the trainer, Gail@SpinningBabies.com before the beginning of the workshop.
Participants are responsible for their own travel, accommodations, and related expenses and Spinning Babies® is unable to refund these expenses.
About the Trainer: Gail Tully is a midwife (CPM) from Minneapolis, Minnesota, USA. Author of Changing Birth on Earth: The Midwife and Nurse's Guide to Using Physiology to Avoid Another Unnecessary Cesarean, The Belly Mapping Workbook and Resolving Shoulder Dystocia DVD. Penny Simkin and Ruth Ancheta's Labor Progress Handbook features Belly Mapping® in Chapter 3. Anne Frye's Holistic Midwifery, Vol 2, cites Gail on shoulder dystocia. Midwifery Today published Gail on Shoulder Dystocia; The basics; Belly Mapping; and Opening the Brim, Resolving Breech Obstruction. See SpinningBabies.com for more information on Gail Tully and Spinning Babies®.
Advanced Offerings: The Spinning Babies® Workshop is required before taking any further trainings, such as Spinning Babies® Certified Parent Educator Training or Spinning Babies® Aware Practitioner Workshop.
See SpinningBabies.com for more information on Spinning Babies®.
Interested in bringing Spinning Babies® to your city?  See the current list of Approved Trainers on our Spinning Babies® website or request a workshop with this form.