Nîmes, France – Spinning Babies® Workshop w/ Nikki Zerfas – Sep 5-6, 2020
September 5, 2020 @ 9:00 AM

-

September 6, 2020 @ 6:00 PM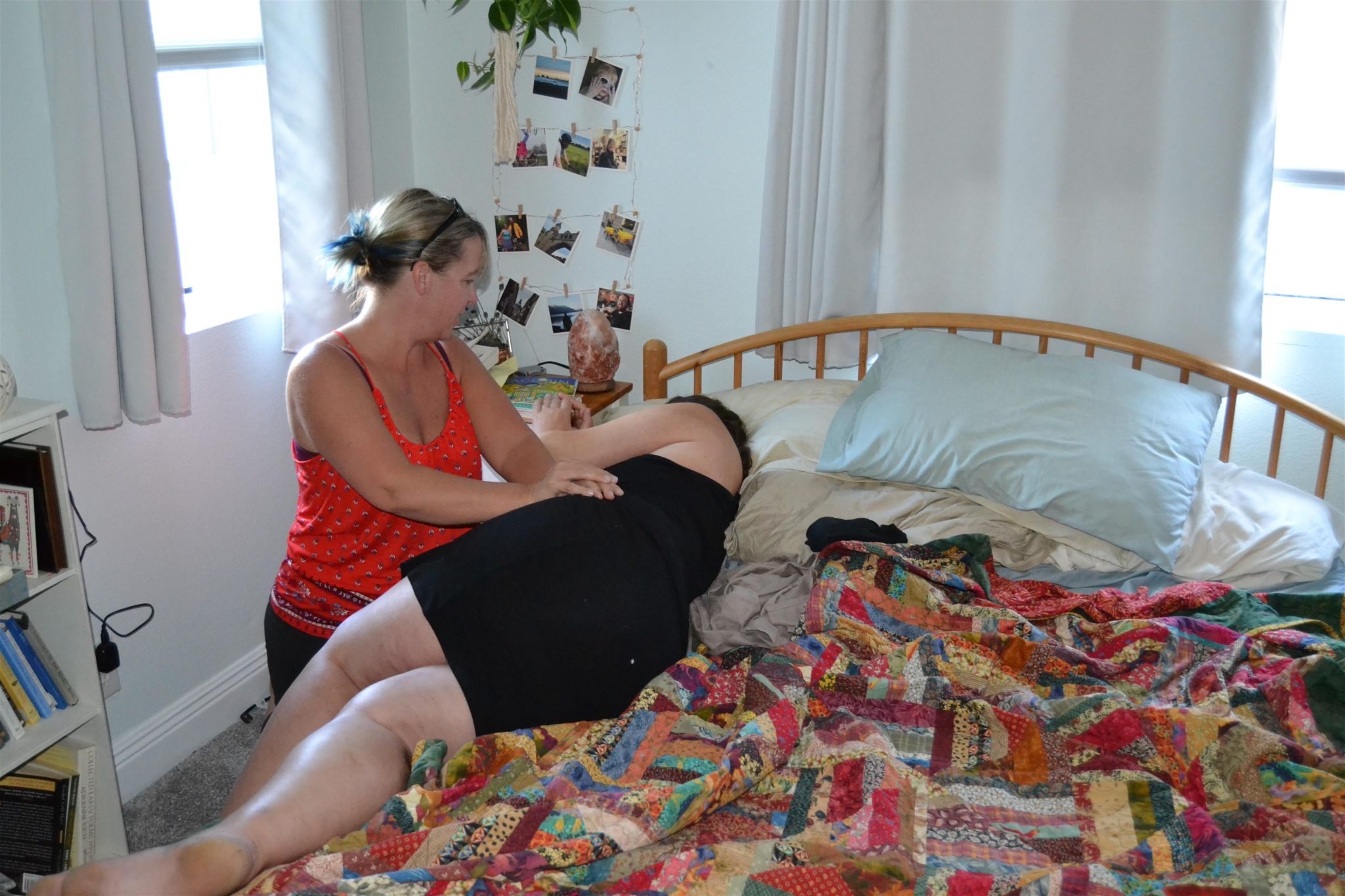 Description de l'atélier Spinning Babies®️:
Cette formation présente l'approche de Spinning Babies®️ pour le confort pendant la grossesse, le progrès pendant le travail pour faciliter l'accouchement. Spinning Babies®️ pose une nouvelle question:​ ​«Où est le bébé?» Les participants apprennent des nouvelles solutions pour les travails longs et les travails postérieurs, mais également pour les dystocies et pour soulager les douleurs. Spinning Babies®️ présente une nouvelle perspective sur l'anatomie du travail et son lien avec la position du fœtus. Découvrez pourquoi nous pensons que la position du bébé́ n'est qu'une réflexion de l'espace disponible dans le corps de la mère. Spinning Babies®️ mets en application des techniques d'étirement musculaire et les techniques myofasciales. C'est aussi simple que «faire de la place pour le bébé». Nous nous rendons vite compte que la position fœtale n'est qu'un indice de ce qui est nécessaire et peut-être pas la cause initiale d'un travail long et compliqué. Ramener la facilité dans la naissance. Entrez dans le nouveau paradigme de la naissance qu'est Spinning Babies.
Cet atelier sera présenté en français.
Qui devrait assister ?
Nous accueillons tous professionnels travaillant avec les femmes enceintes. Spécialisations comprises : doulas, infirmières, sages-femmes, obstétriciens, professionnels de la petite enfance, professionnels paramédicaux amener à accompagner des femmes enceintes. Le contenu n'est pas très technique mais demande un minimum de connaissance des stades de l'accouchement, et des positions du fœtus.
Votre hôtesse: Camille MARIE, lobaluna.asso@gmail.com
Inscription :
A l'avance: (jusqu'au 15 juillet 2020) : 280 € Tarif régulier : 300 € (du 16 juillet au 15 août 2020)
Dernière minute (après le 15 août 2020) : 340€
Inclus: atelier et documentation, boissons et collation
Accès Voiture : A9 Sortie Nîmes-est n°24
PARKING GRATUIT
Accès Bus : arrêt « La Ponche » à 250m
Merci de nous faire savoir si vous avez une table à masser que nous pouvons utiliser pour l'atelier.
Nous comptons prendre un pause de repas d'une heure. Nous vous proposons de commander de notre traiteur (environs 12 à 15 euros par personne). On contactera les participants dans la semaine précédant l'atelier pour les commandes. Vous pouvez également apportez à manger ou sortir manger avec des nouveaux amis.
Si vous êtes dans votre dernier mois de la grossesse, vous pouvez nous demander la possibilité d'aussi participer en tant que modèle bénévole.
Pour toutes autres questions: vous pouvez faire un email avec votre nom, adresse et description de votre profession (intitulé du sujet: Atelier Spinning Babies, Nancy 2020) à: NikkiZerfas@SpinningBabies.com. Si vous vous enregistrez, nous supposons que vous acceptez nos conditions générales.
Nikki Zerfas, RNC-EFM, IBCLC, SpBAP, Spinning Babies®️ Approved Trainer
Nikki est formatrice approuvée par le Spinning Babies, infirmière obstétrique (spécialisée au travail et à l'accouchement pour les grossesses à haute risque), consultante en allaitement titrée IBCLC.
Nikki présente des ateliers Spinning Babies en Amérique du Nord et en Europe. Elle travaille actuellement en tant qu'infirmière à l'hôpital de l'Université de l'état de Washington à Seattle.
Son but personnel consiste à faciliter la collaboration entre toutes les disciplines autour des femmes enceintes et leurs histoires de naissance. Elle trouve une grande joie à réunir les doulas, les sages-femmes, les médecins et les travailleurs du corps pour améliorer les soins offert aux femmes et aux bébés.
Spinning Babies® Workshop
Where dilation stalls, rotation solves! Spinning Babies® reduces unnecessary cesareans with a paradigm-shifting approach to physiological birth. Spinning Babies® goes beyond fetal positioning with our contribution to addressing all labor progress issues. Revolutionize your practice!
After this workshop you will be able to:
Facilitate comfort in pregnancy and ease in childbirth for your clients
Improve fetal position with techniques for uterine ligaments and pelvic muscles
Identify when to take action to avoid a long labors or cesareans
Use fresh solutions for long and/or posterior labor, labor dystocia and labor pain
Resolve labor stalls with Spinning Babies® Three Levels Solutions℠
And much, much more!
Spinning Babies® offers the world's first complete system of matching birth positions and labor progress techniques to "Where's Baby?" in the pelvis. Find out how you can change the effective size of the pelvis.
Who may attend: We welcome all professionals who serve people in their pregnancy and birth.
Ideal for: midwives, nurses, nurse practitioners, doulas and childbirth educators. Also attended by obstetricians, family medicine doctors, prenatal yoga instructors, chiropractors, acupuncturists, massage therapists, perinatal case managers, and community health workers. It is recommended for people new to Spinning Babies®️, as well as those practiced in it for years.
Hosted by: Camille MARIE, lobaluna.asso@gmail.com
We will take a 60-minute lunch break. For lunch, we suggest you order from our caterer with prices around 12-15 euros. Participants will be contacted a week in advance for orders. You can also bring a lunch or go out with new friends.
Please contact us if you are able to supply a massage table for the workshop.
If you are a birth professional in your final month of pregnancy, you may inquire about being our pregnant volunteer.
Continuing Education: Doulas and nurses may use the document of attendance to obtain contact hours. ACNM contact hours available. The American College of Nurse-Midwives (ACNM) has awarded this course with 8 CE credits.
Cancellation Policy: If you will miss this workshop due to attending a birth, you must notify the organizer before the workshop begins. Refunds will not be granted without prior notification.
About the Trainer: Nikki is originally from South Dakota. After a decade living in France, she returned to the US to become a nurse and found her passion of working with patients at all points in their perinatal journeys. She is especially interested in supporting physiological birth in complex medical situations. She continues to work as a Labor & Delivery RN at a teaching hospital.
---
Advanced Offerings: The Spinning Babies® Workshop is required before taking any further trainings, such as Spinning Babies® Certified Parent Educator Training or Spinning Babies® Aware Practitioner Workshop.
Registration is now open for Spinning Babies® 2020 Confluence in Caloundra, QLD, Australia.
See SpinningBabies.com for more information on Spinning Babies®.
Interested in bringing Spinning Babies® to your city? Contact one of our Spinning Babies® Approved Trainers or read about hosting a Spinning Babies® Workshop.