Seattle, WA – Spinning Babies® Workshop w/ Gail Tully – March 9, 2019
March 9, 2019 @ 09:30

-

18:00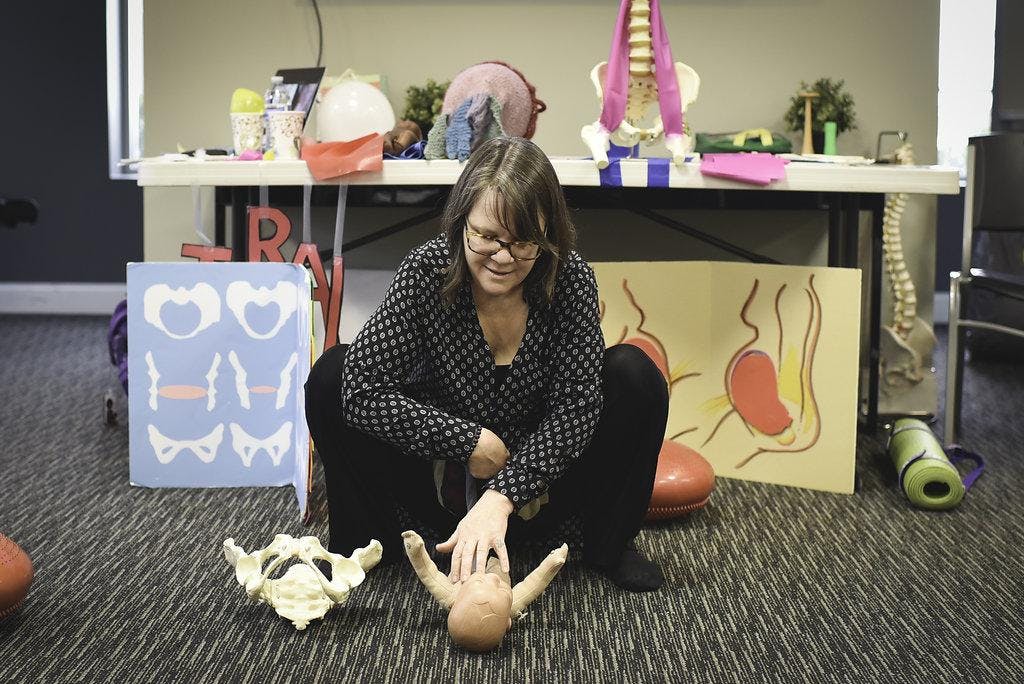 Spinning Babies® Workshop 
This workshop is open to Doctors, Midwives, Nurses, Doulas, Childbirth Educators, Chiropractors, and alternative providers who assist in pregnancy and childbirth. It is recommended for people new to Spinning Babies, as well as those practiced in it for years.
Can you spot a long labor before it begins? Use the 3 Principles of Spinning Babies and the 3 levels of the pelvis to match solutions and reduce cesareans. Pregnancy protocols for your prenatal visits.
Compare anterior and posterior fetal positions, flexion and engagement and learn to recognize a stall in labor progress quickly and resolve it gently.  Is it CPD or does she need more time?
Learn and Relearn the anatomy and physiology that impacts fetal position and physiological wellbeing in pregnancy and birth (we explore the soft tissues of muscle, ligaments, and fascia).
Practice the "Three Sisters of Balance®" Spinning Babies' techniques to add balance to pregnancy and birth.
Explore the effects of occiput posterior presentation on the length of pregnancy and labor.
Reduce or prevent long, posterior labors during pregnancy – with demonstration on a live model.
Define and understand the difference between comfort measures and rotation techniques.
Learn a new approach to labor progress through the pelvic stations (levels).
Thoroughly explore and practice many Spinning Babies® techniques for:
– The Inlet (rather than the latent phase)
– The Midpelvis (rather than the active phase)
– The Outlet (rather than Stage 2)
Yes, the workshop is different than the website
Speaker: Gail Tully is a midwife (CPM) from Minneapolis, Minnesota, USA. Author of The Belly Mapping Workbook and Resolving Shoulder Dystocia DVD. Penny Simkin and Ruth Ancheta's Labor Progress Handbook features Belly Mapping in Chapter 3. Anne Frye's Holistic Midwifery, Vol 2, cites Gail on shoulder dystocia. Midwifery Today published Gail on Shoulder Dystocia; The basics; Belly Mapping; and Opening the Brim, Resolving Breech Obstruction. See SpinningBabies.com for more information on Gail Tully and Spinning Babies.
CEUs: Spinning Babies Workshop: American College of Nurse Midwifery (ACNM) has awarded this course with 0.7.  Doulas may use the certificate of attendance to obtain contact hours. Nurse CEUs are being applied for.
Sign-in opens 30 minutes prior to start of workshop. Please arrive at least 15 minutes before the workshop begins. 
Cancellation Policy: 100% refund will be given if you need to cancel due to attending a birth. All birth-related cancellations must be submitted in writing via email to Gail before the workshop begins. No show, no call: no refund. Reach Gail at  info@spinningbabies.com. If you need to cancel for other reasons, please arrange to give your registration to another person and get payment from them, then call the hostess to give her/his name. A fee may be charged.
Fine Print: After online Reg. ends, call organizer to see if there's room. Attendance does not give rights or ability to call yourself a Spinning Babies trainer, teacher or practitioner; to teach under the name Spinning Babies, Belly Mapping, or other trademarks; or use Gail Tully's intellectual property. You may teach the techniques but not the curriculum. No video recording and please use any photos taken appropriately.