Syracuse, NY – Spinning Babies® Workshop w/ Lorenza – May 27-28, 2022
May 27 @ 09:00

-

May 28 @ 17:30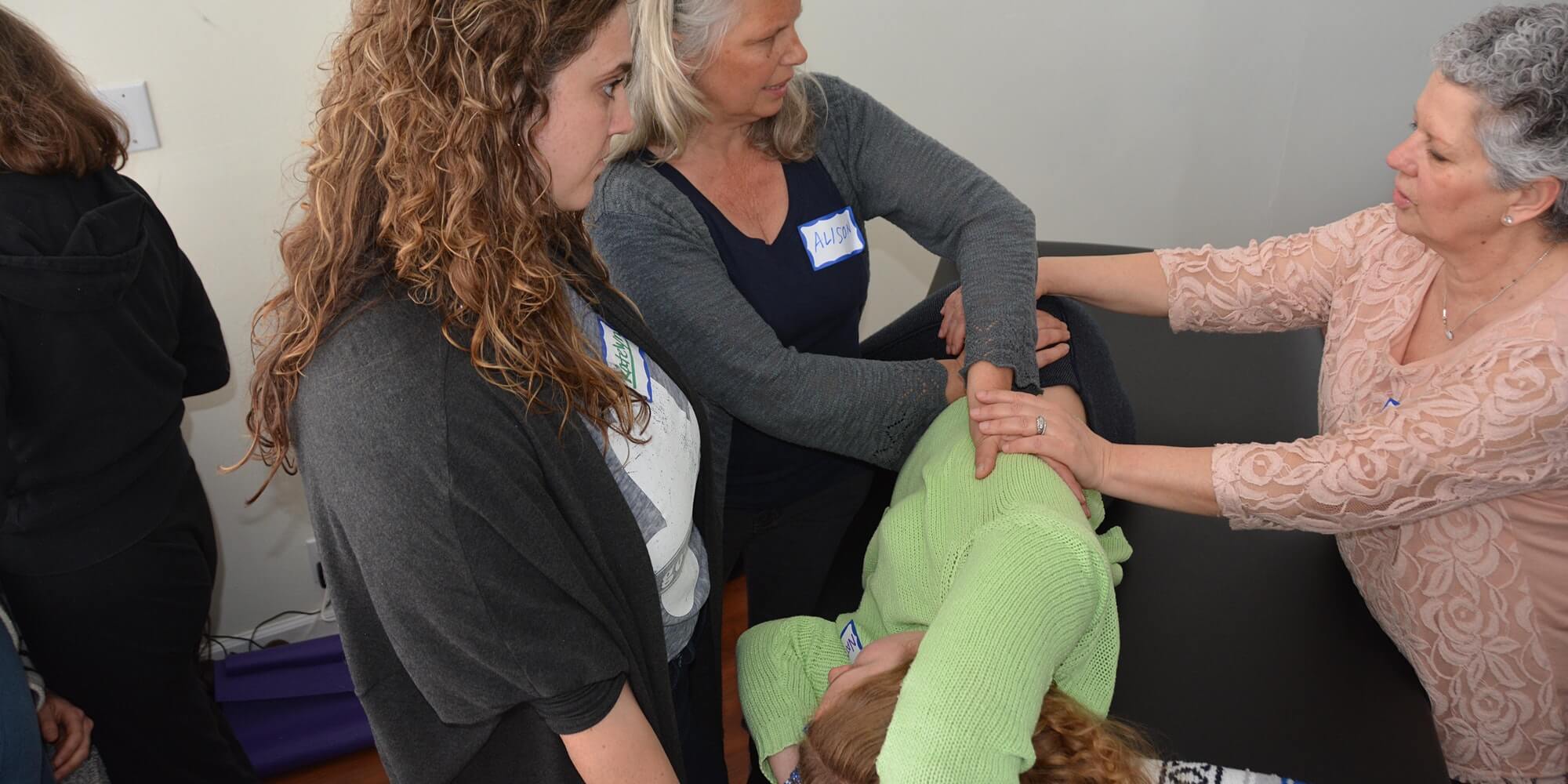 Spinning Babies® Workshop
Spinning Babies® Workshop
This will be a two day Spinning Babies® training for doulas, childbirth educators, midwives, obstetricians and body workers who work with birthing families during the prenatal and intrapartum period. During the two day program we will explore more in depth what Spinning Babies® offers families during the prenatal period and practice concrete ways of assisting birthing families during the labor and birth process using the Spinning Babies® approach.
Spinning Babies® begins with fetal rotation to reveal the lesser known physiology of birth anatomy. Your passion, our approach. Start seeing solutions in labor progress with this new lens on childbirth. After this workshop you will be able to:
Facilitate comfort in pregnancy and ease in childbirth for your clients
Improve fetal position without manipulation of the fetus
Identify issues faster; gentle actions to shorten a long labor or avoid a cesarean
Use less (or no) force to resolve malposition and labor dystocia
And much, much more!
Spinning Babies® Three PrinciplesSM. Three BalancesSM, and Three Levels Solutions offers the world's first complete system of birth preparation and labor ease concepts using baby's position. Physiological techniques change the effective size of the pelvis through the body's own innate capacity to resolve or prevent labor dystocia.
Who may attend: We welcome all professionals who serve people in their pregnancy and birth.  Ideal for: midwives, nurses, nurse practitioners, doulas and childbirth educators. Also attended by obstetricians, family medicine doctors, prenatal yoga instructors, chiropractors, acupuncturists, massage therapists, perinatal case managers, and community health workers. It is recommended for people new to Spinning Babies®️, as well as those practiced in it for years.
Continuing Education: Maternity House Publishing, Inc. (dba Spinning Babies®) is accredited as a provider of Nursing Continuing Professional Development by the American Nurses Credentialing Center's Commission on Accreditation (ANCC). This activity has been awarded 13 contact hours through ANCC and 13 Continuing education credits through the American College of Nurse Midwives (ACNM).
Many doula and childbirth education organizations accept these contact hours; check your organization's policies.
Hosted by: Laura Kendrick, syracusehypnobirthing@gmail.com
Details: We will provide a continental breakfast.
Lunch will be on your own. I hour will be allotted. We strongly recommend you bring a picnic lunch. We may order take out for those who prefer that option during the morning break.
Two partial scholarships will be made available to BIPOC birth workers who are working in marginalized communities and for whom covering the cost of tuition would be a financial hardship. Scholarships will be granted on a first-come, first-served basis to applicants that qualify. To apply please email Lorenza Holt at lorenzaholt@spinningbabies.com with a description of your work and how you and your community will benefit from this training.
Important: If you own or have access to a massage table, and can bring it, please do so. Just call Laura Kendrick at 315-491-4291 and let her know so she can plan on that.
Bring a yoga mat. 1-2 pillows, a birthing ball. Wear comfortable clothing. We will be practicing a yoga routine and will be practicing may different comfort measures that will involve being on the floor, lying on a massage table, being on hands and knees or leaning forward.
All participants are expected to be fully vaccinated for COVID. Wearing a face mask will be expected at all times during classroom time.
If a participant is not feeling well, has any COVID symptoms, we unequivocally request participants refrain from attending the training and a full refund will be issued. No refund will be issued once the workshop has started.
Refunds, minus Eventbrite fees, will be granted up to 14 days before the start of the training. If a birth worker is called to a birth before the start of the workshop, please email Lorenza before 8:00 AM on May 27. We we will be able to partially refund the workshop, minus a $75 fee. If a participant is called to a birth after the workshop has started, a refund will not be possible.
Participants are responsible for their own travel, accommodations, and related expenses and Spinning Babies® is unable to refund these expenses.
COVID-19: As of June, 2021, the trainer will expect all participants to be fully vaccinated against COVID.
If COVID restrictions are in place in that community, the trainer may choose to cancel the workshop, will grant full refunds, or may offer a hybrid model of teaching where half of the training is virtual and the other half is taught in smaller groups.
As COVID restrictions are lifted, and vaccinations are the norm, the trainer will seek a space for the workshop that is well ventilated and will limit the number of participants to keep the proper safe distancing between participants. Regardless, all participants are assuming their own risk when attending a workshop. All participants are expected and required to wear a quality mask covering their nose and mouth during the entire workshop. Disinfectants will be used and cleaning steps will be taken during the event.
If a participant is feeling sick, has any of the possible symptoms of COVID 19 or its variants before or during the workshop, the participant is expected to immediately withdraw from the course. A full refund will be granted to these individuals.
About the Trainer: Lorenza Holt has a master's in public health with a concentration in maternal and child health. She has been a birth advocate in the Boston area for over 25 years. She is an experienced birth doula, independent childbirth educator, trainer of community doulas, and since 2015 a Spinning Babies® Approved Trainer.
Helping birth professionals understand the Spinning Babies® approach is a true honor and a passion for Lorenza. The workshops give guidance on when and how to use specific techniques or positions to assist a pregnancy find greater comfort or a labor find the right balance and space so the birth process can continue and progress. The shift in paradigm has been a game changer for Lorenza in her birth work. Being able to share a different perspective and approach with other birth professionals is a delight. The more she trains labor and delivery nurses, midwives, obstetricians, OB residents, doulas, childbirth educators, and bodyworkers, the deeper her commitment becomes. There is success in better understanding the anatomy of the birth-giver and how the baby participates in this incredibly intricate and well-designed process.
Advanced Offerings: The Spinning Babies® Workshop is required before taking any further trainings, such as Spinning Babies® Certified Parent Educator Training or Spinning Babies® Aware Practitioner Workshop.
See SpinningBabies.com for more information on Spinning Babies.
Interested in bringing Spinning Babies® to your city?  Contact one of our Spinning Babies® Approved Trainers or read about hosting a Spinning Babies® Workshop.
Terms of Use: This workshop does not provide a certification in Spinning Babies® only a document of attendance. Participants will not be able to use the name Spinning Babies® to describe their services, such as offering Spinning Babies®, sessions, or saying "trained in Spinning Babies" after registering for or attending this workshop. Participants may use concepts and techniques introduced in the workshop in the participant's practices. Further training is available for eligible participants which does lead towards a contractual relationship for listing or certification and use of Spinning Babies® brand and name.