Toledo, OH – Spinning Babies® Workshop w/ Gail – June 9, 2021
June 9, 2021 @ 08:00

-

16:00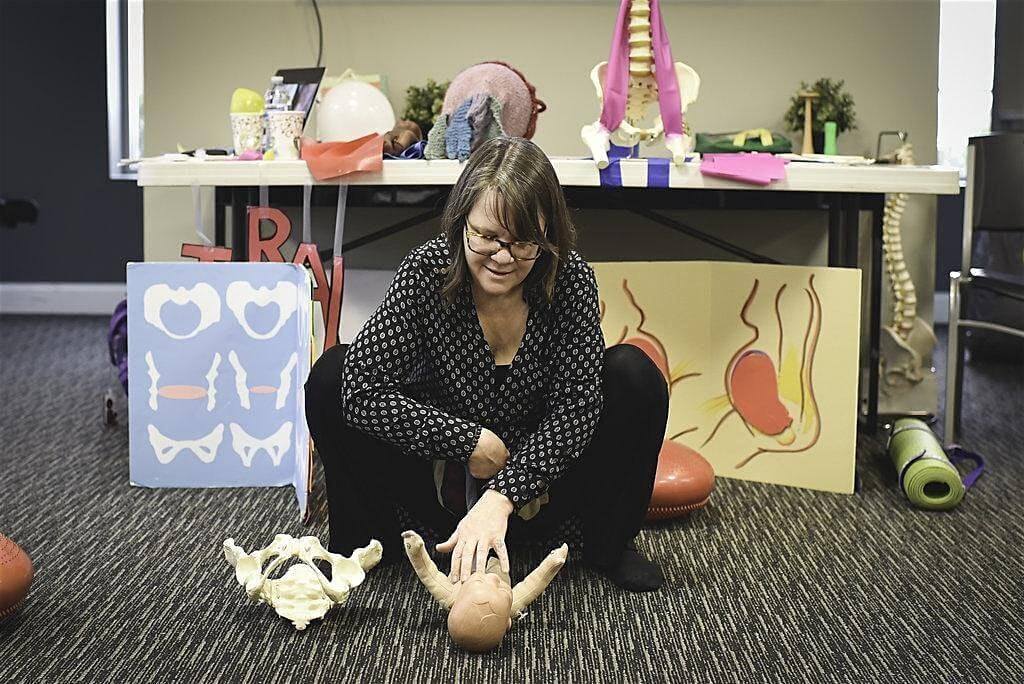 Spinning Babies® Workshop
Spinning Babies® Workshop
in Toledo, OH, USA
Gail Tully, creator of the Spinning Babies®️Approach invites you to this Spinning Babies®️ Workshop to support competency in physiological birth.
Spinning Babies®️ begins with fetal rotation to reveal the lesser known physiology of birth anatomy. Your passion, our approach. Start seeing solutions in labor progress with this new lens on childbirth.
After this workshop you will be able to:
Facilitate comfort in pregnancy and ease in childbirth
Improve fetal position without manipulation of the fetus
Identify issues faster; shorten a long labor or avoid a cesarean
Use less (or no) force to resolve malposition and labor dystocia
Spinning Babies®️ offers the world's first complete system of birth preparation and labor ease concepts using baby's position. Physiological techniques change the effective size of the pelvis through the body's own innate capacity to resolve or prevent labor dystocia.
Who may attend: We welcome all professionals who serve people in their pregnancy and birth. Ideal for midwives, nurses, nurse practitioners, doulas and childbirth educators. Also attended by obstetricians, family medicine doctors, prenatal yoga instructors, chiropractors, acupuncturists, massage therapists, perinatal case managers, and community health workers.
Recommended for people new to Spinning Babies®️, as well as those practiced in it for years. CEs are available for some participants, as noted in the Continuing Education section below.
Continuing Education: Maternity House Publishing, Inc. (dba Spinning Babies®️) is accredited as a provider of nursing continuing professional development by the ANCC (American Nurses Credentialing Center's Commission on Accreditation). This activity has been awarded 7 contact hours. ACNM (American College of Nurse Midwifery) has awarded this course with 0.7 CEs. Many doula and childbirth education organizations accept these contact hours; check your organization's policies.
Workshop Details: We are organizing this class with social distancing and safety in mind. Participants are expected to wear masks and maintain safety standards throughout the workshop.
We will take a 60-minute lunch break. Bring lunch, or bring back take out.
Do you have a massage table? Bring one if you can. Questions about this? Email gail@spinningbaies.com
Clothing: Wear easy loose comfortable clothing as we will be practicing exercises on massage tables or on the floor. No jeans please! It is difficult to feel anatomical landmarks through tight or thick clothing.
Cancellation Policy: Attendees can request refunds up to 30 days before your event's start date. A $25 fee will be charged for all cancellations. Late cancellations will be granted if you miss due to attending a birth. You must notify the Approved Trainer that you are on call at least 30 days before the workshop*. If you are called to a birth, email the Approved Trainer before the workshop begins. Refunds may not be granted without prior notification. If you need to cancel for other reasons, please contact the organizer through Eventbrite.
About the Trainer: While seeking physiological understanding to ease birth, Gail Tully created the Spinning Babies®️ Approach. Midwife (CPM) from Minneapolis, Minnesota, USA. Gail's work reduces the high dependence on cesarean surgery as the "go-to" treatment for labor dystocia. A homebirth midwife, doula, and doula trainer, Gail founded a doula collective; the Hennepin County Medical Center's Doula Program; provided doula training independently and for culturally relevant programs, such as the Turtle Women of St. Paul, MN. Author of Changing Birth on Earth: The Midwife and Nurse's Guide to Using Physiology to Avoid Another Unnecessary Cesarean, The Belly Mapping Workbook, and Resolving Shoulder Dystocia Online Course. Penny Simkin and Ruth Ancheta's Labor Progress Handbook features The Belly Mapping®️Method.
Nurse and midwife testimonies make the Spinning Babies®️ a sought after training for Labor and Delivery staff and independent midwives. The Spinning Babies®️ complete protocol was used by Newton Wellesley Hospital's Quality Improvement project and was selected by the American Public Health Association 2018 Annual Meeting & Expo as a poster presentation. The workshop brings Midwives, Nurses, Doctors, Doulas together with bodyworkers for a curriculum bridging lateral knowledge with traditional wisdom and medical research.
Terms of Use: This workshop does not provide a certification in Spinning Babies®️ only a document of attendance. Participants will not be able to use the name Spinning Babies®️ to describe their services, such as offering Spinning Babies®️ sessions, or saying "trained in Spinning Babies" after registering for or attending this workshop. Participants may use concepts and techniques introduced in the workshop in the participant's practices. Further training is available for eligible participants which does lead towards a contractual relationship for listing or certification and use of Spinning Babies®️ brand and name.
Advanced Offerings: The Spinning Babies® Workshop is required before taking any further trainings, such as Spinning Babies® Certified Parent Educator Training or Spinning Babies® Aware Practitioner Workshop.
See SpinningBabies.com for more information on Spinning Babies®.
Interested in bringing Spinning Babies® to your city?  See the current list of Approved Trainers on our Spinning Babies® website or request a workshop with this form.