January 2021 letter to our Community,
We struggled pretty hard to emerge at last in this new year! As we hope that a baby just emerging gets to rest skin-to-skin, let's allow a moment for ourselves as well to notice where we are now. Soon enough, the efforts of transitioning to a new way of "normal" will pull our attention away from this moment of self-connection.
How are you? Contact might not happen at this moment, but a lot of hugs are waiting for each of us. Hang on. Meanwhile, try a weighted blanket. My 3 ½ -month-old grandson loves his weighted sleep sack. He's sleeping longer. We could all use a little cuddle and a warm, weighted blanket is a lovely option when no one else is near. Living in Minnesota, I do not underestimate the value of warmth.
Some of that connection will be with new people. Some of us are grieving lost loved ones and may be healing our bodies. Take the time for feelings. Feeling grief in a big whoosh won't actually cause you to lose your mind or your time. Whereas unexpressed feelings can dilute the richness of our lives and do so over years and years. So feel without judging yourself. Cry, rage, write.
And when you are done, look to the blessings that remain. We each have more blessings than curses on any given day. But in all the stress we feel, we must often purposefully acknowledge the abundant gifts life grants us to even find them. We find our inspiration in one another.
It's my joy to continue the use of my talents and passion to help birthing families and those of us who care for them to have more ease and wonder in the simple and healthy expression of our own physiology. The abundance is within if we simply learn how to let it free.
This year we at Spinning Babies® want to bring more parent materials, more ease for providers taking our workshops, and show more equity in our company's actions.
I want to conclude this update by sharing a deeply sincere directive for each of us from the late "Lactavist" (lactation activist) Rhonda Speers-White, "Go and be a blessing to someone today."
Birth Tip: How to shorten labor
This month's birth tip comes from 3 Ways to Shorten Labor – A free downloadable eBook to support pregnant people needing to be self-sufficient in labor. Download 3 Ways to Shorten Labor to use as a guide for yourself, give to all the parents you work with, or send it to a pregnant friend.
The First Way to Shorten a Labor Is Before Labor
Protect the Balance Already in Your Body
Balance in the body means muscles and ligaments are not too tight, not too loose, and not twisted and pulling the uterus off direction. A body in balance will function better. Birth may then be easier than when we don't nurture the balance in our body.
Supple Muscles
Daily stretching brings comfort to pregnancy and prepares for an easier childbirth. Aligning your body and doing a gentle but lasting stretch can lengthen the muscles. Long muscles are supple muscles. They function well.
Legs and joints and vertebrae that move freely have more options in labor than those that are stiff or only flexible in a few directions. Bikers and walkers, for instance, may need to increase their range of motion by including side lunges. At Spinning Babies®, specific stretches were chosen to address a variety of muscles and ligaments so space expands for a baby to get themselves into an ideal position for birth.
We've created a Daily Activities section on SpinningBabies.com where you can follow a list with pictures and instructions. Select several activities for a daily 30-minute stretching session. Mix the different techniques throughout the week to include most, if not all, of the activities.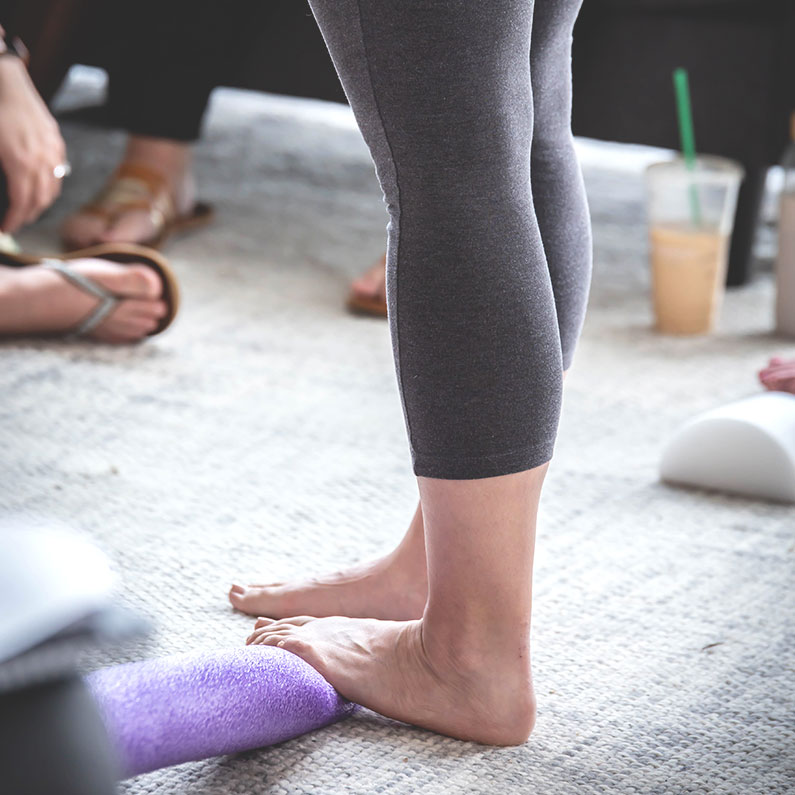 Rest Smart℠
Rest Smart℠ suggestions maintain your balance during pregnancy. These postures and positions can also be used in labor. Think of your belly as a hammock, and let the baby lie with his or her back settling into the hammock. Don't "tuck your tail" while standing, except for specific techniques. You're sitting up on your sitz bones, lying on your side with knees and ankles supported, and finding symmetrical, or twist-less, positions. Visit the Rest Smart℠ page on SpinningBabies.com to learn more.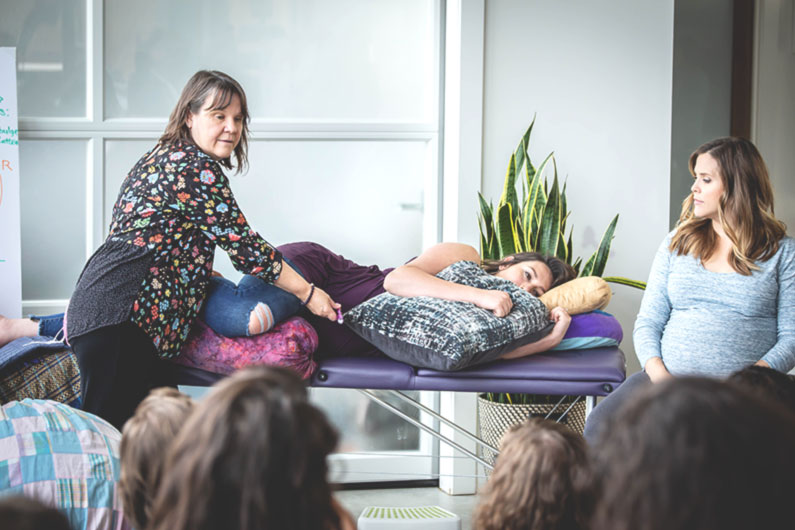 Restore Balance
To increase your likelihood of a physiological birth that is manageable with breathing and moving, natural comfort measures, and support, add body balance. Balance in the body simply means "not too tight," "not too loose," and "not too twisty."
A uterus can get a bit of a twist in the lower portion from a sudden stop or fall while the body or car is turning. Get your birth design back in action: Release what's tight, support what's loose, and untwist the ligaments!
We have collected an assortment of techniques to bring the body back into balance that we call the Three Sisters of Balance℠. While popular for their success, these techniques also have warnings so you can use them safely. Do not use any of these techniques if there is bleeding in pregnancy that is not due to normal cervical dilation.
The Three Sisters of Balance℠ have a cousin too, another technique. We aren't including instructions and photos in this eBook on purpose. We want to keep you up-to-date when there are updates, and also provide a fuller context for better use of techniques by directing you to our website. Click here to begin balancing now.
A new tool for integrating Spinning Babies®
Are you integrating Spinning Babies® in your birth practice? Grow your physiological birth skills with reflection with the My Spin Book: 2021 Spinning Babies® Journal. My Spin Book is a digital journal for midwives, nurses, and doulas to help integrate the concepts and values read about in Gail Tully's book Changing Birth on Earth, on our website, or shared during professional workshops on Spinning Babies® topics.
For every month you receive four pages. One page describes a new view of birth. Each month offers a lesson on birth with a new perspective. Write down your notes about a labor or antenatal visit recording your experiences incorporating the Spinning Babies® approach into your practice. Grab your copy today! 
We'll have another one for each year. Watch for it on sale near the end of Novmeber each year!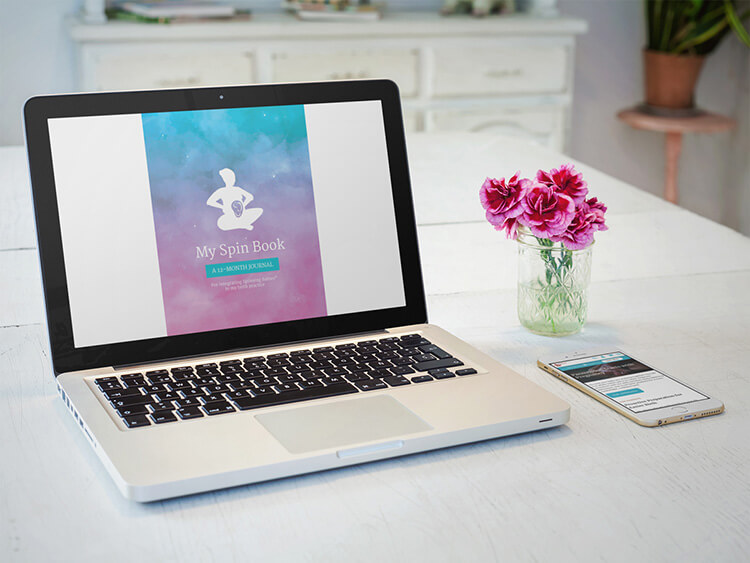 Announcing 2021 Parent Educator Training Dates
Have you taken a Spinning Babies® Workshop before and would like to offer your clients more? Make pregnancy and birth easier for expecting parents by becoming certified to teach Spinning Babies®.
Why become a Spinning Babies® Certified Parent Educator?
The training will teach you techniques that can transform your practice and help improve pregnancy and birth for pregnant parents. You will be able to teach Spinning Babies® for pregnancy comfort, baby's active role in birth, opening the 3 levels of the pelvis, and much more. You will also receive exclusive access to a 4-day in-person training, extensive Teacher Manual, listing on our website, Certified Parent Educator's own logo, parent materials, and more.
Join us for a 2021 Spinning Babies® Certified Parent Educator Training in the following locations:
July 27-30, 2021 – Minneapolis, MN, USA
August 23-27, 2021 – Schladming, Austria
Learn more and apply today for Boston. Registration will go live later this month for Minneapolis and Schladming.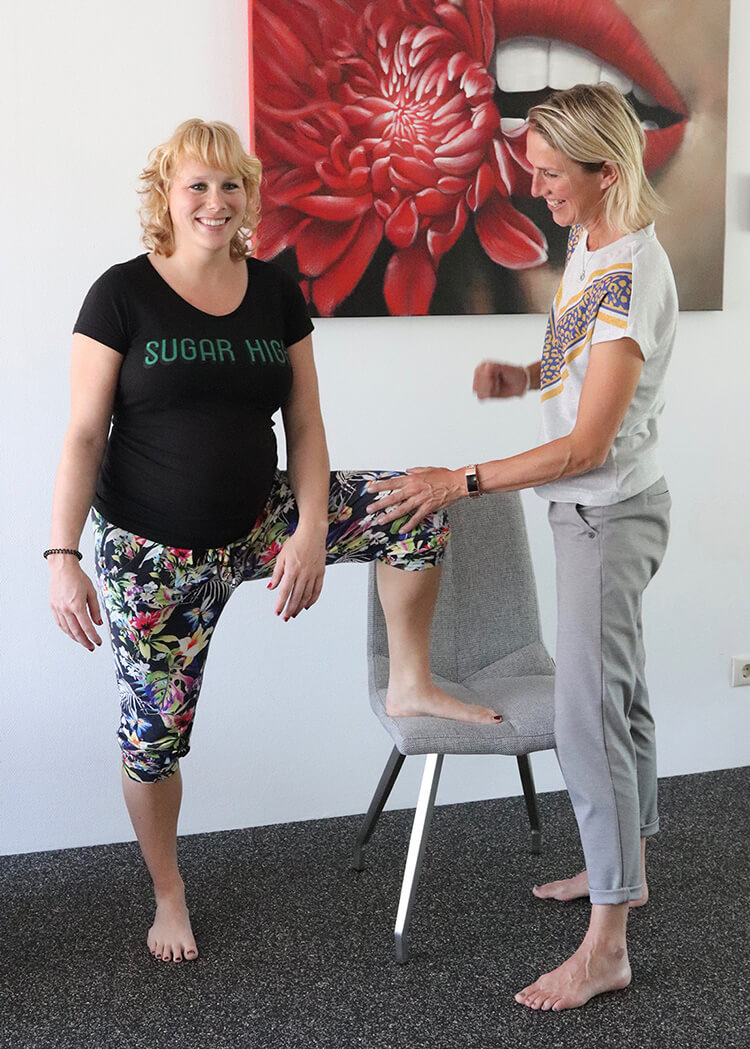 Workshops
Australia


Brazil
There are no upcoming events at this time.
Canada
United States
See all upcoming events on our calendar here.