Monthly Update: The road ahead
Community Updates,
Monthly Update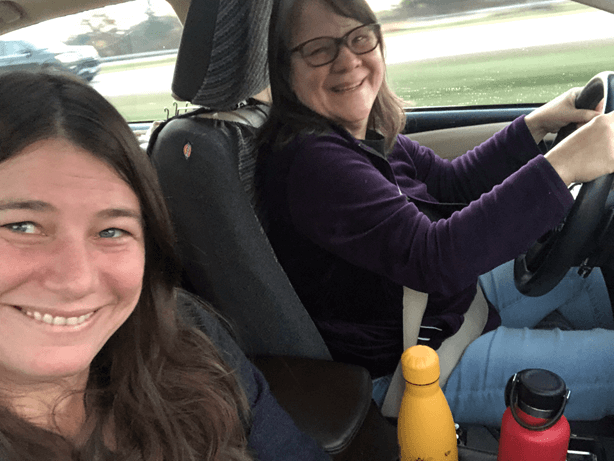 ---
In this month's update:
---
We're almost to our road trip destination. Blue skies with dramatically lit autumn clouds floated over rolling hills speckled with the red, orange and gold leaves. Rather than fly and rent a car, Jennifer Walker and I rather suddenly decided to drive across the US from Minneapolis to Maryland and then up to Massachusetts for two trainings for new Spinning Babies® Certified Parent Educators. Pennsylvania is especially breathtaking this time of year in the northern hemisphere. At one stretch of road, we spoke with our colleague, Claire Eccleston, by WhatsApp. She described the New Zealand Spring time she was enjoying! Perspectives vary depending on where we set our course, don't they? Autumn, Spring.
We hear varying perspectives in birth as well. Some say birth is natural, some say we have to intervene because an emergency could happen at any moment. Birth is a bodily process, so yes, physiology is as natural as we can get. And like digestion or sleep, spontaneous birth has many body processes perfected for this purpose. Yet professional care can catch and often redirect emergencies that occasionally arise.
Spinning Babies® offers insight where the process of nature emerges. Just before birth, baby moves lower in the uterus to settle the crown of their head into the top of the pelvis. The path through the pelvis is lined with muscles, and the cervix is ringed with ligaments, like spokes on a bike wheel. If these muscles or ligaments are tight or the spokes are a little twisted, labor can hurt more or take longer.
Spinning Babies® daily activities and recommended body balance restoration techniques helps to release the tensions and twists along the path of birth. In thirty minutes a day in pregnancy, or minutes to a couple hours during labor, a birth may resume its natural process. Our approach shows that we can restore the power of birth with physiology.
Think about this: many complications of birth are physiological in their origin, exhaustion, pain, the baby seeming not to fit, even tearing,… By restoring physiology, we avoid some of these complications. That easier birth happens frequently has allowed Spinning Babies® to become a leading childbirth approach today. When baby can turn with more ease along the path through the pelvis, birth becomes easier.
I am appreciating the smooth roads I've been driving on these past three days. I'm appreciating the warm hospitality at major points in our journey given by our colleagues, Rhea Williams and Lorenza Holt, Spinning Babies® Approved Trainers. I appreciate the stories from parents and professionals alike shaping the course of the road ahead.
In gratitude,
Gail Tully
Founder of Spinning Babies®
---
Birth Tip: Are the activities that Spinning Babies® recommends safe to do with a pregnancy complication?
Sometimes we are asked how exercise will affect a problem impacting the pregnancy. We have the general rule to avoid exercises when there is bleeding from the placenta or premature contractions which haven't been yet assessed for premature labor or when trying to avoid premature labor.
The body balancing activities of Side-lying Release (SLR) may twist the lower uterine segment and normally allow the uterus to align with the pelvis. This is a fantastic result, but what if a vulnerable placenta, where there has been bleeding or pathology is present?
We have less than a handful of suspected cases of medically poor outcomes. The Forward-leaning Inversion (FLI) normally resets the fascia and ligaments near the cervix to allow the head to settle on the cervix and the cervix to ripen, position itself, and dilate more readily. But there have been a handful of babies who turned breech compared to thousands who found comfort and ease by the FLI. We say don't do FLI if there is high blood pressure or risk of stroke, or even heartburn because that just isn't nice. But for special circumstances of rare medical blood conditions or placenta pathology we do not have data. We don't know.
Reassuringly though, a large hospital system assessed their use of Spinning Babies® for their own knowledge (unpublished) and found no adverse reactions for the positions or the Three Balances℠ which are our favorite body balancing techniques and involve the Side-lying Release and Forward-leaning Inversion. None. We are eager for published results of studies that are in process now.
The widespread hospital use of our approach is reassuring. We don't boast that no problems could occur, but we are reassured. People make up their mind to accept the risk of moving in unique ways. I note that parents and professionals accept the risk of labor inductions, membranes ruptured, and other common, non-physiological interventions that are routinely conducted even though a percentage of adverse outcomes are proven. Using a physiological approach is reassuring, but also not risk free. Walking could cause a fall. But we walk. Birthing is life itself and we go forward with trust and getting the support we need to feel the freedom to let our bodies do their work.
So when in doubt, ask the provider
Ask: Am I (or the pregnant person) clear to do exercise?
If the answer is yes, we are reassured. If the answer is no, there are other options, like abdominal release, standing release, and the general range of motion activities, like a calf stretch, that help the body but are not in the exercise category. And while SLR and FLI are not actually exercises, the changes they bring about in the body are significant and therefore might be better understood in that category.
We just don't have the data on unusual situations with everything we recommend. We are hoping to add understanding from data coming in from the research that is in progress.
---
It's the end of an era
In the coming weeks, we will move towards selling only the digital streaming version of the Spinning Babies® Parent Class and Daily Essentials videos. We will no longer be restocking our DVDs for these products. The Parent Class and Daily Essentials DVDs will be available in our shop until Thursday, November 18, 2021 or until they are sold out, whichever happens first! Visit our shop now to purchase before they are out of stock.
Don't worry! These products will still be available for your viewing via digital streaming, it is just the DVD products that are discontinued.
---
Upcoming Trainings
Join us for a four-day exclusive training that prepares you to teach a skill-based, hands-on parent class that can transform your childbirth education and prenatal yoga teaching. New training dates for 2022 will be announced before the end of the year!
Upcoming Advanced Workshops
Become a Spinning Babies® Aware Practitioner. Are you a bodyworker with pregnancy skills? Join us to learn advanced skills to promote body balance for fetal positioning and pregnancy comfort. Use skills in pregnancy, birth, and non-pregnant people. You'll build on the Spinning Babies® Workshop skills, learn new ones. For bodyworkers.
San Diego, CA – Spinning Babies® Aware Practitioner Workshop – March 28-31, 2022 *Save the date! Registration opens soon.
Minneapolis, MN – Spinning Babies® Aware Practitioner Workshop – April 25-28, 2022 *Save the date! Registration opens soon.
Upcoming Workshops
Australia

Brazil
New Zealand

United States
See all upcoming events on our calendar here.