Monthly Update: Here's your monthly update from our founder Gail, upcoming workshops, & more!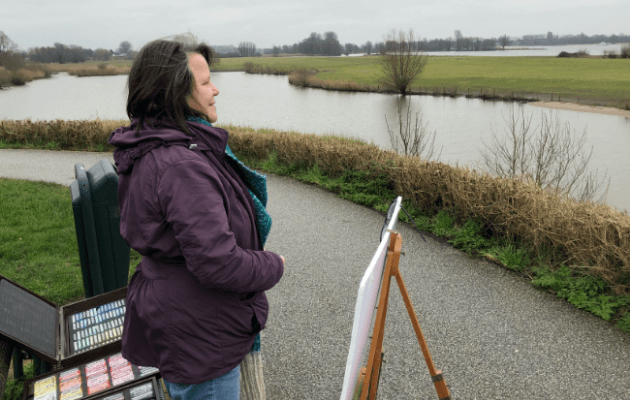 February 2022 letter to our community,
As we emerge into a more equitable society, research in birth is also becoming more equitable. Today researchers are questioning past studies of the pelvis, for instance, where the conclusions were biased to white women. 
European descendants made up the majority of the political and economic leadership in the formation of the United States. During the industrial era, a profitable medical industry rose and with it, the ability to fund research. While much research advanced understanding, study designs and conclusions too often expressed class and race bias. Such was the bias that determined that the shape of the normal female pelvis was round. Among the researchers chiming in, Moloy and Caldwell set the classification of pelvic shapes still used today. See my expression of their diagram included here with lines for the greatest space in the brim for engagement (largest diameter of the inlet).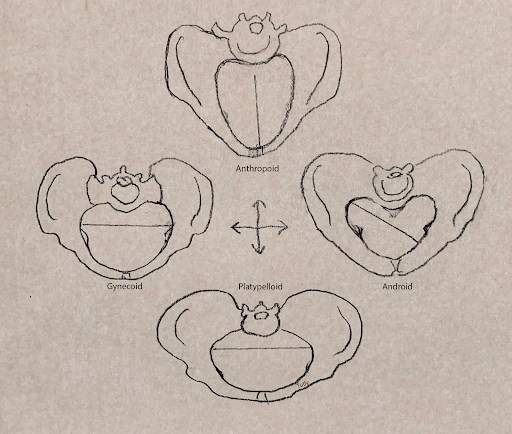 One type of oval pelvic brim is open wider side-to-side (the rounder, "gynecoid" pelvis) and was said to be present in nearly 50% of Caucasians. Another pelvic brim is open deeper front-to-back (the oblong "anthropoid" pelvis). This shape was said to be similarly common in people of African ancestry, also nearly 50%. In forensic anthropology, identifying race and sex of a skeleton is important and the science in that field verifies there are some minor racial differences. The first and overpowering objection here is that making one race the norm makes another race lessor. Secondly, variety occurs among all races. Thirdly, fetal position, location and labor patterns all inform us if the pelvis needs alignment or opening for baby to rotate, engage and descend.
Racial bias in pregnancy and birth care harms the formation of a person's life.
Lia Betti of the UK offers a dynamic re-interpretation of pelvic difference inShaping birth: variation in the birth canal and the importance of inclusive obstetric care.  I'll refer you to Betti's modern discussion on pelvic typing and the importance of understanding how slight differences may play a role in incorrect technique in forceps and general birth management.
At Spinning Babies®, we seek to offer physiological support for the many, rich variations in all shapes and sizes. Gail Tully, Nicole Morales, Rhea Williams, and other Approved Trainers have called out the limitations of categorizing pelvic shape by race or gender at our workshops. Because our hospital birth education leans toward solving delays in birth without tools or drugs, I considered our recommendations for helping baby into any pelvic brim.
I approached the late Claudia Booker, Black Midwife and our advisor in reducing ignorance about Black maternity at Spinning Babies®. We both wanted a better understanding of optimizing pelvic movements and positions with pelvic variations. We noticed that the angle of our highly recommended Abdominal Lift and Tuck serves multiple pelvic inlet shapes.
Baby's engagement into the pelvis (dropping in) is foremost in avoiding most unnecessary cesareans once contractions have begun. The Abdominal Lift and Tuck helps by making space for baby's head during each contraction for ten contractions in a row. It doesn't work without a contraction.
To do the Abdominal Lift and Tuck, the abdomen is lifted with the linked hands of the mother or the hands of the partner who stands behind and reaches supportive arms around to the front of the abdomen. The lift of the belly (originating from Janie King) improves the angle of the baby's head. Tucking in the tailbone (by doing a posterior pelvic tilt) brings the heavy bone at the top of the sacrum backwards out of baby's way. By the time ten contractions are done, baby is usually engaged. Labor progresses.
Depending on pelvic shape, this technique may work in one of two ways:
In a pelvis that has a bit narrow front-to-back diameter like the gynecoid pelvis, the baby's forehead or shoulder can get caught on the front edge of the inlet. We free baby's forehead by opening the back of the pelvis with the posterior pelvic tilt (the Tuck portion of Abdominal Lift and Tuck).
In a pelvis that has a long front-to-back opening at the top, the issue is not that the bone caught the baby's forehead. Rather the head may be well positioned right over the brim, but because the brim is angled steeply, baby has to enter from the front rather than from above. Tipping the pelvis so the opening is under baby's head can be so very helpful.
The posterior pelvic tilt portion of the Abdominal Lift and Tuck shifts the pelvic opening so the uterus doesn't have to do so many contractions to engage the baby.
When baby has yet to engage in labor, lying in bed might lengthen labor. When the openings of the pelvis aren't suited to being horizontal, eventually the midwife or obstetrician may decide for a cesarean because they don't know what else to advise. The good news is, even If one doesn't know for sure about the diameters, doing the Abdominal Lift and Tuck won't "Undo" the baby's engagement or slow the birth process. And if the pelvis is optimized by the repositioning of the brim in this way, hours of painful contractions may be avoided.
Try Abdominal Lift and Tuck:
When labor contractions are regular but labor isn't picking up
Labor feels strong like transition but the cervix is not very open,
Baby is staying high even when the cervix is very open
Baby doesn't come down with pushing
Don't do Abdominal LIft and Tuck:
When baby is well engaged (-1 or 0 station)
When baby is seen or felt moving the lower bones of the pelvis apart
When an epidural or other cause puts the birth giver horizontal (See other options or wait until baby is engaged before starting an epidural, if it's even needed after this.)
Instructions are on the Abdominal Lift and Tuck page under Techniques on our website.
Let me know what you think!
Gail Tully
Founder of Spinning Babies®Let's use our bodies to birth our babies!Spinning Babies® Own Essential Team GrowsA recent development is that Jennifer Walker, Approved Trainer and the Director of the Certified Parent Educator Program, has moved into co-leadership with me. Together our minds make a dynamic whole to grow our team towards our goals to establish physiological birth as normal care. Together with our dedicated staff, Approved Trainers and advanced training instructors, we are bringing forward the gentle, physiological approach for parents and professionals to increase easier birth. Life work balance deserves attention. Jen Walker and I set time for self care in Amsterdam with walks along the canals to receive care from two practitioners. Gavin Tran from The Chiropractor (a clinic run by Sunita Athisdam). Gavin used a gentle touch to adjust a sticky area which was giving me chronic issues. There was no snap, crackle, pop but rather a sigh and a crinkle. Later, we took turns lying on a warm, crystal filled mat and received acupuncture and a bit of welcome education from Ephrimvael-Paul Downes from Green Alchemy. Here's a couple of fun photos. When I'm in the US, I often see Chiropractor Susan Quigley from Sunu Wellness in Minnetonka, Minnesota, so it's fun to include a photo from a Spinning Babies®  Workshop which I did with staff from her two clinics (the other is in Minneapolis).
---
We have a great trio of tools in the shop that midwives and nurses love to use together: The Birth Positions Poster, the Quick Reference Digital Download, and the Spinning Babies® Badge Buddies.
Communicating options for birth positions for comfort and progress has never been easier! Posters are great for antenatal teaching and when showing position during birth, the Quick Reference helps you to have all the details at hand and the Badge Buddy to spark conversation with colleagues and parents alike.
Workshops & Trainings
Parent Educator Trainings
Join us for a four-day exclusive training that can transform your childbirth education and prenatal yoga teaching. New training dates for 2022 will be announced very soon!
Read more about this training >>
Advanced Workshops
Learn advanced skills to promote body balance for fetal positioning and pregnancy comfort. Use skills in pregnancy, birth, and non-pregnant people.
Sydney, NSW Austrailia – Spinning Babies® Aware Practitioner Workshop – February 12-15, 2022 >>  Spots left! Registration closes Feb 9th!
San Diego, CA – Spinning Babies® Aware Practitioner Workshop – March 28-31, 2022 >>
Minneapolis, MN – Spinning Babies® Aware Practitioner Workshop – April 25-28, 2022 >>
Melbourne, VIC Austrailia – Spinning Babies® Aware Practitioner Workshop – June 17-20, 2022 >>
Spinning Babies® Workshops
February Workshops
6 – Mobile, AL – Spinning Babies® Workshop w/ Tammy
8-11 – Retreat: Big Island, HI -Spinning Babies® Workshop w/ Kelly
12 – Cedar Rapids, IA – Spinning Babies® Workshop w/ Tammy
18 – Kona, HI – Spinning Babies® Workshop w/ Kelly
19-20 – São Paulo, Brasil – Oficina Spinning Babies® com Maíra
20-23 – Retreat: Big Island, HI -Spinning Babies® Workshop w/ Kelly
22 – Melbourne, AUS – Spinning Babies® Workshop w/ Fiona
26 – Springdale, AR – Spinning Babies® Workshop w/ Tammy
March Workshops
1 – Springfield, IL – Spinning Babies® Workshop w/ Tammy
1 – Warrnambool, AUS – Spinning Babies® Workshop w/ Fiona
2 – Peoria, IL – Spinning Babies® Workshop w/ Tammy
3 – Peoria, IL – Spinning Babies® Workshop w/ Tammy
3-4 – Ventura, CA – Spinning Babies® Workshop w/ Kelly
5-6 – São Paulo, Brasil – Oficina Spinning Babies® com Maíra
9 – Shepparton, AUS – Spinning Babies® Workshop w/ Fiona
10 – Wangaratta, AUS – Spinning Babies® Workshop w/ Fiona
11-12 – San Diego, CA – Spinning Babies® Workshop w/ Tema
12 – Evansville, IN – Spinning Babies® Workshop w/ Tammy
12-13 – Kenmore, WA – Spinning Babies® Workshop w/ Kelly
13 – San Diego, CA – Spinning Babies®  RSD Workshop w/ Nicole
14 – Ogden, UT – Spinning Babies® Workshop w/ Nikki – CANCELLED
See all upcoming events on our calendar here.